Our Story
Hola todo el mundo, yo soy el tipo que está criando los pollos junto con mi esposa y dos niños. Mi nombre es Benjamin, pero podés llamarme Ben. Soy un quiropractor que le gusta cultivar, así que surgió un nuevo término y me llamo un "agricultor de bienestar" y espero poder convertirme en su agricultor de bienestar.
La universidad quiropráctica es donde todo comenzó. Comencé a estudiar mucho sobre la salud y cómo los factores de estrés externos son una de las principales causas de la enfermedad. El alimento que se produce y se consume a través del sistema alimentario convencional ahora es probablemente uno de los mayores factores de estrés externos que hay en la actualidad. A través de nuestros estudios mi esposa y yo encontramos el estilo de vida paleo y pensamos que sería la mejor manera de criar a nuestra familia. Al principio nuestro objetivo era criar animales y cultivar productos para alimentar a nuestra propia familia. Queríamos dar a nuestra familia comida que era nutritiva. Sin embargo la comida que se cría correctamente no es fácil de encontrar y pensamos que sería una buena idea ayudar las muchas otras granjas que se están empezando para asumir la sistema de alimentos industriales. Por eso comenzamos Pastos Verdes Farm.
Desafortunadamente la mayoría de la gente no sabe de dónde viene su alimento y cómo se cría. Sin embargo, más y más personas están despertando y buscando alimentos nutritivos que se crían correctamente.
Pensamos que hay algunas preguntas muy importantes que debemos hacernos acerca de la comida que estamos consumiendo: ¿Sabés de dónde viene tu comida? ¿Conocés la calidad de vida que experimentó? ¿Sabés con qué se alimenta o se inyecta?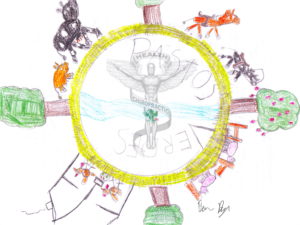 Aquí, en Pastos Verdes Farm estamos respondiendo a estas preguntas y dándote la tranquilidad de saber de dónde viene tu alimento, qué tipo de vida viven los animales y de qué se alimentan. Hacemos esto invitándole a venir a visitar la granja, en realidad queremos que venga a recoger su comida en la granja y llegar a saber personalmente que su comida se cría adecuadamente.
Hey everybody, I am the guy that is raising the chickens along with my wife and two kids. My name is Benjamin but you can call me Ben. I am a Chiropractor that likes to farm so I came up with a new term and I call myself a "Wellness farmer" and I am hoping that I can become your wellness farmer.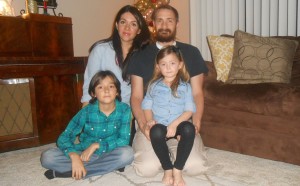 At chiropractic college is where it all started.  I began to study a lot about health and how external stressors are one of the main causes of sickness.  The food that is produced and consumed through the conventional food system now is probably one of the biggest external stressors there are nowadays.  Through our studies my wife and I found the paleo lifestyle and thought that it would be the best way to raise our family.  At first our goal was to raise animals and grow produce to feed our own family.  We wanted to give our family f
ood that was whole and nutritious.  However food that is raised properly is not easy to find and we thought it would be a good idea to take on the industrial food system as so many others are doing to help you.  That is why we are starting Pastos Verdes Farm.
Unfortunately most people don´t know where their food comes from and how it is raised.  However more and more people are waking up and looking for whole nutritious food that is raised properly.
We think that there are some very important questions we should ask ourselves about the food we are consuming:  Do you know where your food comes from?  Do you know the quality of life it experienced?  Do you know what it is fed or injected with?
Here at Pastos Verdes Farm we are answering those questions and giving you the peace of mind knowing where your food comes from, what kind of life the animals live and what they are fed.  We do this by inviting you to come and visit the farm, we actually want you to come and pick up your food at the farm and get to know personally that your food is raised properly.